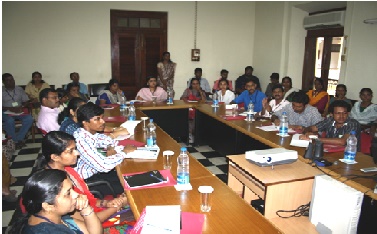 "Learning is the only thing the mind never exhausts, never fears and never regrets"
Leonardo da Vinci
The process of medical device development is complex and need inputs from varied disciplines of science and technology. The process of medical device development and associated aligned areas of biomedical technology therefore requires extensive learning.
Biomedical Technology Wing of Sree Chitra Tirunal Institute for Medical Sciences & Technology has travelled through this arena for more than thirty years now. The medical device industry being at a budding stage in India and various start ups emerging, the Institute recognises that the expertise and experience that has been gained through the years are to be shared with the medical device industry, the researchers and students.
The Institute had its Industry Institute Partnership Cell (IIPC) with focus on services like training, problem solving and consultancy is in existence for more than a decade now.. To support the medical device industry and the start ups in enhanced learning of biomedical Technology, the IIPC now launches a series of training programs which shall be pre-scheduled for the entire year on various selected topics.
The participants are free to register to any of these programs before the Last date of registration.
Payment can be send as cheque/DD in favour of "The Director, SCTIMST" payable at Thiruvananthapuram or can be transferred online by giving due intimations. Please note that the GST rates as applicable are to be paid extra.
All postal communications can be addressed to
The Co-ordinator - IIPC,
Biomedical Technology Wing,
Sree Chitra Tirunal Institute for Medical Sciences & Technology
Satelmond Palace,
Poojappura - 695012
If any custom made training programs are to be arranged, the same shall be entertained by IIPC subject to the mutual convenience. You may convey the same to us through our email.
Please speak to us : 0471-2520207/307/310
Please write to us: iipc@sctimst.ac.in